The Entertainer is the next Elusive Target to arrive in HITMAN. This target will be in Marrakesh (Bonus Mission) for 10 days and is the final Elusive Target to be released for the first season of HITMAN! Read on for important details about this target.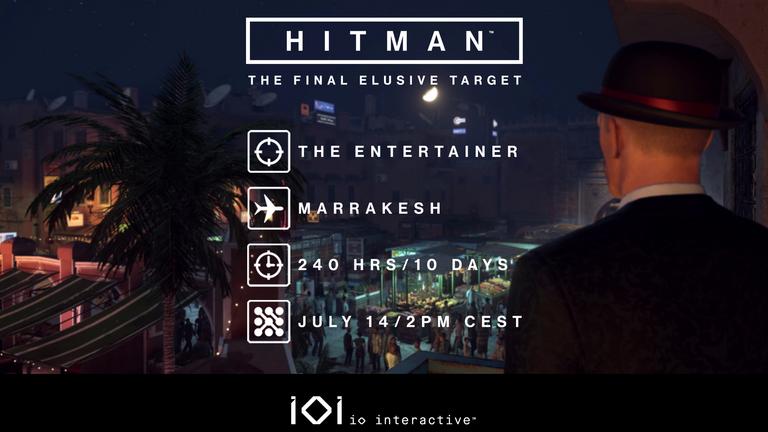 If ET #26 is the first Elusive Target contract you complete in Marrakesh, you'll earn the Summer Suit with Gloves for Agent 47. You will also earn the Terminus Suit if this is the first Elusive Target contract that you complete with the 'Silent Assassin' rating. Earning the 'Silent Assassin' rating will also count towards your progress for unlocking the Winter Suit. At this point, you'll need to have already earned 4 Silent Assassin ratings from the previous 12 ET's before starting The Entertainer to be able to unlock the prestigious Winter Suit via Elusive Targets. There are more notes about Elusive Target Rewards below.
At 14:00 CEST / 05:00 PT on Friday 14th July, we'll update the Elusive Target tile on the Featured Hub in-game and the contract will be live. Remember that an Elusive Target cannot be restarted once any targets have been eliminated or any objectives have been completed.
Elusive Target #26 has two objectives: (1) Eliminate Mr Giggles (2) Locate and Acquire the Client List
Elusive Target Rewards
The below image shows all of the Elusive Target Rewards and the requirements for earning them. All unlocked suits are added to your inventory and can be used in all locations and contracts that allow you to select a starting suit. Depending on your progress with Elusive Targets so far, some of the below suits might remain elusive…